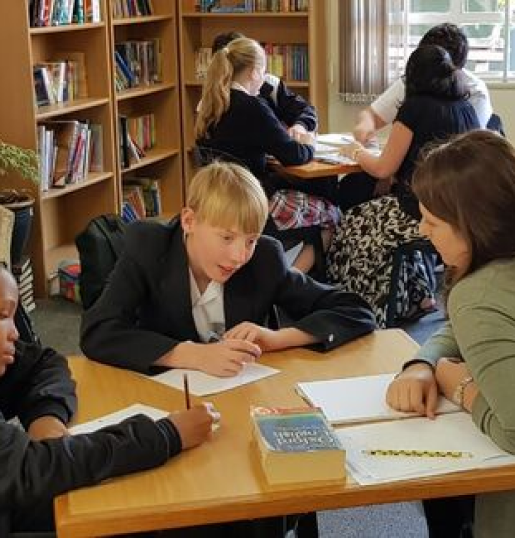 LEARNER SUPPORT AT GRANTLEY
LEARNER SUPPORT AT GRANTLEY
Grantley College specializes in supporting learners with ADD / ADHD, Learning specific challenges in Language, Mathematics and Comprehension [ Dyslexia, Dyscalculia and Dysgraphia] , as well as learners who struggle with social skills.
Individual Educational Programs
The Junior Learning Support, focusses on remediating gaps in the curriculum, and supporting every child by means of skills interventions.
Grantley specialises in the remediation of gaps in Gr 8 and 9. In order to do this we put an Individual Education Programme (IEP) in place for each learner.
The IEP is the result of careful benchmarking and assessment, leading to the identification of academic gaps, as well as the understanding of the challenges faced by each student in the academic arena.
This is a working document that guides the educators, as they get our learners ready for the FET phase (gr 10 – 12).
Reading Recovery
Reading Recovery is a unique programme designed by Grantley College, to support reading and comprehension in High School.
Using various tools, Reading Recovery builds vocabulary, develops reading with meaning and focuses on comprehension skills that can be transferred to all learning areas.
Senior Learning Support
Whilst Junior Learning Support focuses on remediating and skills development, Senior Learning Support is content based, with learners receiving small group support in the critical areas of Language and Mathematics.
Support in content subjects is given in tutor groups.
Seniors enjoy a "winter school" each year in which their exam skills are refreshed and they become "exam ready".
Emotional Support
The Grantley College Learning Support Team includes two qualified and experience Educational Psychologists who offer a variety of programmes to support our learners.
These programmes included:
Individual Support Therapy
Junior Transition Workshops
Social Skills Workshops
Parent Information Sessions